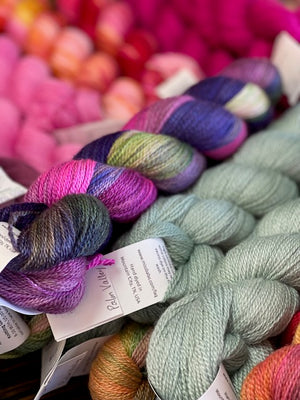 Huge Trunk Show
Miss Babs at Skein
In-Store
July 15th - 23rd 2022

Yowza DK, Yummy 2-ply fingering, Mohair, Keira sport weight, and more
Welcome Back Miss Babs!
We're gearing up for the biggest trunk show of the year:
We welcome back Miss Babs Hand Dyed Yarns & Fibers from July 15th-July 23rd.
Babs and the Miss Babs Team have been dyeing beautiful yarns in the mountains of eastern Tennessee since 2005.
Miss Babs offers a wide variety of yarn bases from lace to chunky in a stunning range of colorways. Between their semi-solids, repeatable variegated colors (Babettes) and one of a kind colors (Wild Irises), you are certain to find the right colorway for your next project.
If your next project happens to be Casapinka's Sharon Air MKAL, there will be plenty of us on hand to help you pick your colors.:)
At Skein, we will be having a lot of bases come in for the week of the trunk show: their Yowza DK, Yummy 2-ply fingering, Mohair, Keira sport weight, and more. 
The Babs team always sends a ton of samples for inspiration. This is one event you really won't want to miss.